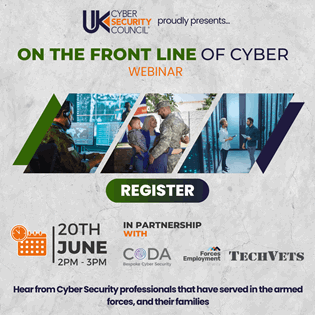 One of the missions of the UK Cyber Security Council is to highlight pathways into the profession and raise awareness of the diversity of people who work in the sector.
The UK Cyber Security Council partners with Tech Vets and Coda Security to highlight the presence of veterans, serving individuals, and their families in the cyber security profession. We'll be hearing about how their experiences helped them to change careers and thrive.
There will also be an update from the Director of Professional Standards Annmarie, about how the featured specialisms will align with the Council's professional titles.
Find out more and register here: On the Front Line of Cyber