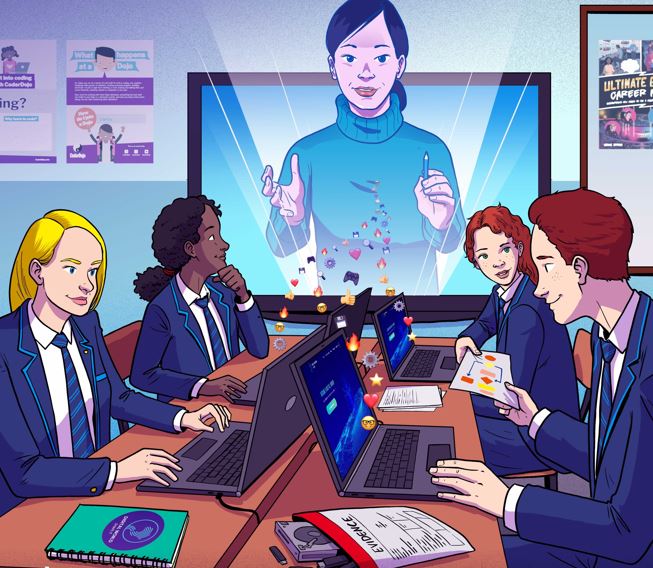 Training session for employers wanting to find out more about our Tech Industry in the Classroom resources and guides.
Tech employers and educators continue to prove that participating in classrooms is an effective way to inspire students with activities that offer a unique real-world experience.
The Tech Industry in Classroom programme continues to give tech companies the chance to help the next generation of school pupils enhance their digital technology skills thanks to a toolkit and series of training sessions that detail the support available from more than 10 different partners.
In the classroom activities, employers will bring the school subject to life by helping pupils try an activity that shows the value of their learning in a work-related context. There are lots of ideas and activities already available, which are detailed in the toolkit. These are fun activities to get pupils working together to solve problems in areas like digital forensics and software development. This means you can provide a high quality activity, aligned to the curriculum, that helps them learn something new. It's a chance for the pupils to play with technology, and it means your session will be something different for them.
These training sessions will look at the different resources created by Skills Development Scotland for delivery in the classroom ranging from Ethical Hacking, Digital Forensics and Software development.
Who should attend:
Anyone that is looking to engage with schools and wants to know more about why this is an important activity to get involved in, the resources available, how to design new resources and how to delivery an engaging session.
At these training session, we'll show you how to use the lesson in a classroom, and give you the chance to try it out. Afterwards you'll get everything you need to run it with learners. You don't need any cyber security experience to take part.
We'll demonstrate how to use our online resource on "Encrypting Files" with school pupils. This lesson walks learners through how files are encrypted and why it's an important tool for protecting data, and is suitable for learners S1-S4.
We'll demonstrate how you can host a fun lesson on incident response, using our activity 'Defend The Hospital'. This interactive activity has learners step into the shoes of an incident response team as a hospital comes under cyber attack, and is suitable for learners S1-S4.
We'll demonstrate a fun resource you can use with learners. In 'Photo Detective', learners extract location data from the metadata of digital images and use it to track down a cyber criminal. The online interactive activity is suitable for learners S1-S4.